Tron cryptocurrency experienced a 10% price surge in early June. What events within the token's ecosystem prompted such growth in its value, and what can market participants expect in the future?
Positive News
The main reason for the price increase of TRX was the announcement by the project's founder, Justin Sun, that the token is now available to users on the Ethereum blockchain. This innovation became possible through the use of the BitTorrent bridge.
Source: twitter.com
As a result, the number of transactions conducted on the TRX network reached a historic high, reaching nearly 11 million. In 2024, the project team plans to further increase the number of transactions in the ecosystem of this cryptocurrency, almost doubling their quantity.
After this positive news reached the market, the market price of the TRX token temporarily rose to $0.08. Following that, there was a minor corrective decrease in price, which, however, turned out to be insignificant.
At present, the market capitalization of TRX stands at $7 billion, placing the token in the 11th position among all cryptocurrencies worldwide. However, despite TRX's relatively strong market position, there are some concerning signals indicating certain issues within the Tron project team.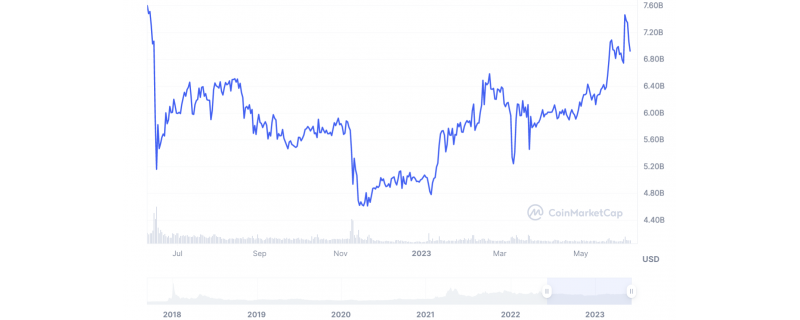 Source: coinmarketcap.com
In particular, in April, the cryptocurrency exchange Binance.US decided to delist the TRX token. This news was highly negatively received by market participants and led to an immediate 6% drop in the market price of TRX.
Additionally, the SEC has accused the founder of the Tron project, Justin Sun, of engaging in the sale of unregistered securities, including the TRX tokens. According to the regulator, he unlawfully earned $31 million from these activities.
Ambiguous prospects
Most likely, TRX will perform fairly well in the near future. It is possible that its market price will surpass the $0.1 mark. However, the overall situation for this cryptocurrency remains tense due to the regulatory concerns from American financial regulators. Therefore, expecting another sharp price surge is not currently anticipated, and the price of the cryptocurrency is likely to remain near the levels reached so far.